Steak with Garlic Mash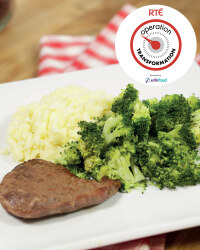 Recipe Information
Ingredients
440g Sirloin/Fillet Steaks
250g Potatoes, peeled
350g Broccoli, cut into florets
2 Garlic Cloves, crushed
Food Staples:
2 tbsp Skimmed Milk
1 tbsp Butter
Method
Pre-heat grill to a medium temperature.
Place potatoes in a pot of boiling water and simmer until tender for approx. 15-20 minutes.
In a pot, combine crushed garlic and butter and stir well.
Steam broccoli until tender for about 8 minutes.
Place steaks under grill and cook for 5-7 minutes for medium cooked,or approx. 8-10 minutes for medium-well cooked.
Turn the steaks halfway through.
Drain water from potatoes, add garlic butter and milk and mash together.
Take the 2 steak fillets out from under the grill and serve with the mashed potatoes and broccol