A mouthwatering steak & mushroom pie, served with your choice of green vegatables.
Steak & Mushroom Pie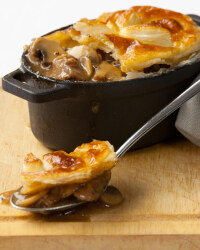 Recipe Information
Ingredients
600g 100% Irish stewing beef
Oil for frying 1 onion, finely chopped
300g button mushrooms
30g plain flour
1 Quixo beef stock cube
1 tbsp chopped fresh parsley
Salt and black pepper
Puff pastry
Beaten egg, to glaze.
Method
Cut the beef into 3cm cubes and fry in a hot pan with the oil until nice and brown on all sides.
Transfer to a casserole as they are done.
Fry the onion in the same pan until soft and brown, add the mushrooms and cook for a further 4 minutes.
Stir in the flour and cook for 1 minute, now add the stock a little at a time, stirring continuously.
Bring to the boil and pour over the meat in the casserole, season with salt and pepper and simmer slowly for 40 minutes.
Now add the chopped parsley.
Spoon the mix into a pie dish. Brush the lip of the dish with water then lay the pastry sheet on top.
Press down firmly to seal.
Egg wash the pastry and make a few little slits in the centre.
Place in a hot oven until the pastry is nice and golden.
Serve with some fresh green vegetables.