Sprouts with a parmesan, garlic and fresh thyme crumble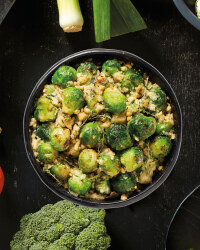 Recipe Information
Ingredients
600g Sprouts
30g Butter
30g Specially Selected Parmigiano Cheese
50g Plain Flour
3g fresh Sage – chopped
1 x tsp Paprika
2 x peeled Cloves Garlic
Salt and Pepper
Method
Pre-heat the oven to 200°C/400°F/Gas Mark 6.
Trim and wash the sprouts.
Cook in salted boiling water for 3 minutes and drain well.
Grate the Parmigiano cheese.
Mix the butter, grated cheese, sage, garlic and flour together, then season with pepper and the paprika.
Rub the mixture together to make breadcrumbs.
Put the sprouts into an ovenproof dish – sprinkle over the crumble and bake in the oven for 15 minutes.