Ah, festive finger food. A classic Christmas combo of sprouts and bacon drizzled in maple syrup and sprinkled with Grana Padano cheese.
Sprout & Bacon Skewers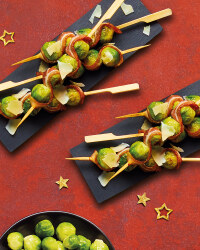 Recipe Information
Ingredients
12 Sprouts, peeled
4 Rashers Smoked Streaky Bacon
10ml Maple Syrup
20g Grana Padano Cheese, grated
4 Bamboo Skewers
Method
Blanch the sprouts in some salted boiling water for 5 minutes.
Drain and dry.
Pre-heat the grill to high.
Skewer 3 sprouts, inter-woven with a rasher of bacon.
Repeat with the others.
Grill the skewers for 8 minutes, turning as they cook until the bacon is crisp.
Serve, drizzled with the maple syrup and grated cheese.