Enjoy this healthy dinner recipe taken from RTE's Operation Transformation.
Spinach & Feta Frittata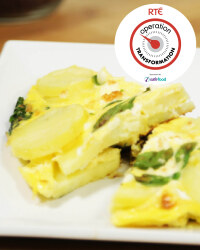 Recipe Information
Ingredients
1 Small Onion
1 Floury Potato (such as Rooster or Maris Piper – 200g)
1 Red Pepper
1 tbsp Softened Butter (15g)
4 Eggs
4 tbsp Low Fat Milk (1.5% fat – 60g)
50g Feta Cheese
Small handful of fresh Basil leaves (5g)
25g Baby Spinach Leaves
50g Mixed Salad Leaves
Sea Salt
Freshly Ground Black Pepper
Method
Cut the onion in half and peel off the skin, then finely chop. Peel the potato and cut into dice. Cut the red pepper in half and remove the seeds and core before discarding, then cut into dice.
Heat a large frying pan over a medium heat. Add the butter and then tip in the onion and sauté for 2-3 minutes until well softened, stirring occasionally with a wooden spoon. Add the potato and red pepper and continue to cook for 6-8 minutes until the potato is just tender when pierced with a sharp knife, stirring regularly to ensure that it doesn't catch at the bottom of the pan.
Meanwhile, break the eggs into a bowl and add the milk. Season lightly with salt, if using and pepper to taste. Beat lightly with a fork until just combined, then crumble in the feta cheese and tear in the basil. Set aside.
Once the potato is cooked, add the spinach to the onion mixture in fistfuls, stirring until wilted. Spread out the vegetables evenly in the pan and then pour over the egg mixture. Reduce the heat to low and cook gently for 10 minutes until the frittata is softly set and golden underneath.
Meanwhile, preheat the grill to medium and then put the frittata under for a minute or two until the top is piping hot and golden. Cut into slices and serve on plates with the salad leaves.
This frittata can be made in advance and served at room temperature on the day it was made or kept covered with clingfilm on a plate in the fridge for up to 2 days and served cold or reheated in the microwave. If transporting, bring cutlery with you.