Hot tortilla wraps filled with spicy beef and a fresh avocado salad.
Spicy Beef Tortilla Wraps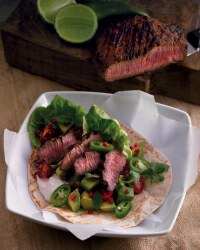 Recipe Information
Ingredients
500g Beef Stir Fry
8 Tortilla Wraps
Mixed Salad Leaves
250ml tub of Low Fat Crème Fraîche
For the Marinade:
Juice of 1 Lime
1 tbsp Olive Oil
2 cloves Garlic, deseeded and finely chopped (reserve 1 to sprinkle over the cooked dish)
2 tbsp Fresh Coriander, chopped
Salt and Freshly Ground Black Pepper
For the Tomato, Red Onion and Avocado Salad;
250g Cherry Tomatoes, halved
1 Red Onion, finely chopped
1 large Avocado, halved, stoned peeled and diced
2 cloves Garlic, crushed
1 Red Chilli, deseeded and finely chopped
1 tbsp fresh Lime Juice
1 tbsp Olive Oil
Method
Combine the marinade ingredients in a bowl.
Place the meat in a shallow dish and pour the marinade over it.
Leave to marinate for at least 5-10 minutes.
Mix all the salad ingredients together.
Taste and season with salt and black pepper.
Set aside while you cook the beef.
Heat a pan or barbecue.
When it is really hot add the beef and allow to cook for 4-5 minutes before turning and cooking for another 4-5 minutes, depending on how you like your beef cooked.
Allow to rest for a couple of minutes.
Heat the tortilla wraps as per pack instructions.
When the beef has rested, cut into thin strips and serve piled onto the wraps along with the leaves, salad and a spoonful of crème fraîche.
Sprinkle over the reserved green chilli.