Wholemeal bread with cinnamon, orange zest and chopped walnuts – just slice and butter!
Spiced Walnut Bread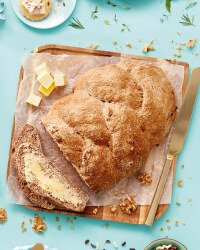 Recipe Information
Ingredients
300ml Milk
30g Butter
1tsp Demerara Sugar
7g Instant/dried Yeast
1tbsp Lukewarm Water
125g Wholemeal Bread Flour
125g White Bread Flour
1tsp Salt
1 Egg
1 tbsp Cinnamon
Zest of 1 Orange
50g Walnuts, chopped
Oil, to grease
Method
Pour the milk into a saucepan and heat to scalding point.
Reduce the heat slightly and stir in the butter and sugar.
Remove the pan from the heat and leave to cool until tepid.
Mix the yeast with the lukewarm water.
Leave to foam for 5 minutes.
Sift together the flours and salt.
Add the egg, yeast mixture, and three quarters of the milk mixture.
Bring together with a knife, adding more of the milk mixture as you go until you have a soft dough.
Knead the dough for 8 minutes before placing in a lightly oiled bowl.
Cover with a damp tea towel and leave to rise for one hour.
Add the orange zest and chopped walnuts to the dough before kneading for 2 minutes. Divide the dough into 3 equal pieces.
Roll each piece into an oblong, approx. 25cm long and plait them together.
Cover with cling film or a damp tea towel and leave to rise for 30-40 minutes.
Pre-heat the oven the 200°C/Fan 180°C/Gas Mark 6.
Bake the loaf in the oven for 30 minutes.
Leave to cool on a wire rack before serving sliced, with lashings of butter.