South American Stir Fry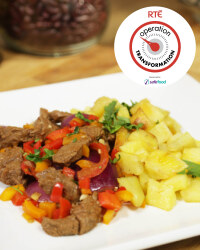 Recipe Information
Ingredients
4 eggs 50g feta, crumbled
½ onion, finely chopped
2 handfuls baby spinach leaves
200g potato, peeled and sliced
Food Staples:
4 tablespoons milk
1 handful basil leaves
1 tablespoon butter
Method
Steam the potatoes over boiling water until soft.
Once cooled cut into slices
Preheat the grill to a high heat Lightly beat the eggs, feta, milk and basil in a medium bowl
Heat the butter in a large overproof frying pan over a medium- high heat.
Cook the onion and spinach for about five minutes until spinach is wilted
Add sliced potato to the pan and cook for 4 - 5 minutes
Reduce to a low heat and pour the eggs into the pan.
Do not stir the eggs, just allow them to cook gently for about 10 minutes
When the frittata is softly set and golden underneath, remove the pan from the heat
Place the pan under the grill for a few minutes and cook until the top of the fritatta is set and golden
Cut the frittata into slices and serve