Enjoy this healthy breakfast taken from RTE's Operation Transformation.
Soft-Boiled Egg with Soldiers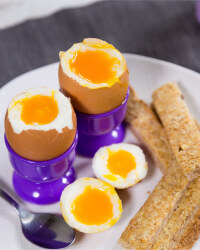 Recipe Information
Ingredients
2 Eggs
1 slice Wholemeal Bread
1 tsp Butter (5g)
Sea Salt
Black Pepper
Method
Bring a saucepan of water to the boil over a medium heat.
Gently lower in the eggs into the water and cook for 6 minutes.
Meanwhile, toast the bread and spread with the butter, then cut into soldiers.
Carefully lift the eggs out with a spoon or tongs if you have one and put into eggcups.
Crack off the tops and season lightly with a little salt, if using and pepper to taste.
Put on a plate with the toast soldiers alongside to serve.