Delicious gourmet-style burger recipe, perfect for a barbecue.
Smoky Joe Burger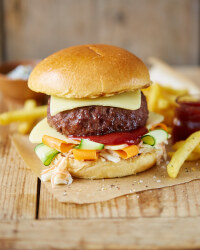 Recipe Information
Ingredients
2 x pack 5% Fat Irish Lean Beef Burgers
4 Specially Selected Brioche Burger Buns
8 x Sliced Irish Medium Smoked Red Cheddar
80g Ketchup
1 x Courgette
1 x Carrot
160g Specially Selected Creamy Coleslaw
Method
With a peeler – peel long ribbons from the courgette and the carrot.
Barbecue or grill the burgers for about 6 minutes each side. Split the buns and toast the cut sides.
Put a slice of cheese on top of each burger – return to the grill just to melt slightly.
Assemble the burgers – First divide the coleslaw between the bases of the buns.
Then top with some ribbons of carrot and courgette.
Then top this with a slice of the smoky cheddar – top that with some ketchup, then the cheese topped burger and lastly the burger bun top.