Sumptuous salmon wrapped around a perfectly cooked egg. An amazing addition to any lunchbox.
Smoked Salmon Scotch Eggs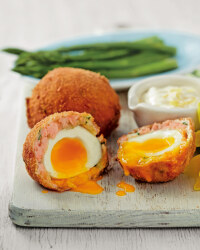 Recipe Information
Ingredients
6 Medium Eggs
1 Large Egg, whisked
2 x 100g Smoked Salmon, finely chopped
400g Salad Potatoes
30g Butter
30ml Double Cream
6g Fresh Parsley, finely chopped
20g Plain Flour
3 slices White Bread
Black Pepper and Salt
Sunflower Oil, to deep fry
Method
Boil unpeeled potatoes in some salted water until soft, then drain and mash with the butter and cream.
Add the salmon, parsley and seasoning. Mix well.
Cook the eggs in boiling water for 4 minutes and then chill in cold water.
Make the bread into crumbs in a food processor.
Peel the cooled eggs.
Divide the salmon mixture into 6 balls and press 1 egg into the centre of each, ensuring it is completely enclosed.
Put the flour, breadcrumbs and whisked egg into individual bowls.
Roll each egg in the flour, dip into the egg and finally into the breadcrumbs until coated.
Heat the oil in a deep pan or fryer to about 150°C and lower the eggs in, 1 at a time and fry until golden brown (drain onto a kitchen towel).
Great served with lemon mayonnaise and fresh asparagus.