Smoked Salmon Pasta with Braised Celery and Radishes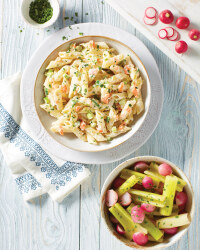 Recipe Information
Ingredients
25g butter
1 head celery, trimmed and cut into 7cm pieces
1 pack radishes, halved
225ml hot water
½ vegetable stock cube
400g penne pasta (or other shape)
1 tbsp olive oil
2 garlic cloves, crushed
5 spring onions, trimmed and thinly sliced
300ml reduced fat crème fraiche
100g smoked salmon, roughly chopped
1 tbsp freshly chopped parsley
Method
Melt the butter in a saucepan and add the celery.
Saute for a few minutes then stir in the radishes.
Add the hot water and crumble in the stock cube.
Stir, put on the lid and cook over a gentle heat for around 30 mins.
After around 15mins bring a large pan of lightly salted water to the boil and add the pasta.
Stir and cook at a rolling boil for around 8 mins until al dente (just tender)
Whilst the pasta is cooking heat the oil in a small saucepan and saute the garlic for 30 secs.
Add the spring onions and continue cooking until softened.
Stir in the crème fraiche and then the smoked salmon.
Heat very gently. Drain the cooked pasta, return to the pan and add the sauce.
Stir gently to mix through.
Serve immediately with the braised celery and radish. Sprinkle with parsley.