Full-bodied and packed with goodness, this salad will freshen up your diet this spring.
Smoked Salmon and Grapefruit Salad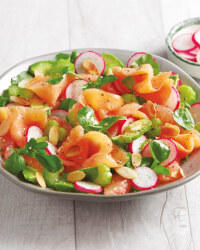 Recipe Information
Ingredients
200g pack Smoked Salmon Slices
1 x 100g bag Watercress
2 Red Grapefruit
2 ripe Avocados
100g Radish
2 Celery sticks
60ml Olive Oil
20ml White Wine Vinegar
Pinch Caster Sugar
Juice of 1 Lime
1 tsp Dijon Mustard
50g Sliced Almonds
Salt and Black Pepper
Method
Peel the grapefruit, removing any white pith, and cut out the segments with a sharp knife.
Wash and thinly slice the celery and radishes.
Cut the avocados in half lengthways and remove the stones, before scooping out the flesh with spoon and slicing.
Squeeze the juice from the lime and sprinkle the lime juice over the avocado flesh to stop it discolouring.
Dry fry the almonds in a frying pan until golden.
Make the dressing by whisking the olive oil, sugar, Dijon mustard and white wine vinegar together.
Assemble the salad, top with the slices of smoked salmon and drizzle with the dressing to serve.