Mashed Chickpeas stirred in with Yoghurt, Lemon Juice, Cucumber and Cumin. Served in a Pitta.
Smashed Chickpea Pitta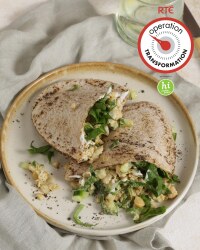 Recipe Information
Ingredients
70g piece of Cucumber
10g Baby Spinach Leaves
115g Tinned Chickpeas (drained and rinsed)
2 x tbsp Natural Yoghurt (3% fat) (30g)
¼ tsp Ground Cumin
1 tsp Lemon Juice
1 Wholemeal Oval Pitta (60g)
Salt (optional) and freshly ground Black Pepper
Method
Cut the cucumber into small dice.
Shred the spinach leaves.
Drain the chickpeas and rinse well under cold running water.
Tip on to kitchen paper to drain off any excess water completely.
Tip the chickpeas into a bowl and roughly smash with a potato masher.
Stir in the yoghurt with the cucumber, cumin and lemon juice.
Season lightly with salt (optional) and freshly ground black pepper.
Toast the pitta bread in the toaster for 1 minute until puffed up, then leave until cool enough to handle and split one side open using a sharp knife or scissors.
Use the shredded spinach to fill the pitta, then spoon in the smashed chickpea mixture.
Cut pitta in half and arrange on a plate to serve.