Breakfast or dessert? There's always room for Scotch pancakes and maple syrup.
Chef's Tip
Makes 10-12 pancakes & approx. 125ml of Sauce
Scotch Pancakes & Maple Syrup Butterscotch Sauce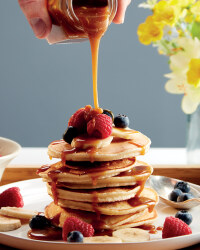 Recipe Information
Ingredients
Scotch Pancakes
100g Plain Flour
50g Caster Sugar
1 large Egg
50ml Milk
Pinch of Salt
Sunflower Oil
Maple Syrup
125ml Maple Syrup
60g Dark Brown Soft Sugar
30g Butter
125ml Double Cream
1 tsp Vanilla Essence
Method
To make the pancakes:
Put the flour, sugar and salt into a large mixing bowl, then whisk with a balloon whisk to get rid of any lumps.
In a mixing jug, whisk the egg and milk together.
Carefully stir this into the flour.
Mix and beat well until you have a smooth batter.
Grease a non-stick frying pan with a little oil.
Using a dessert spoon, ladle a spoonful of the batter into the pan – with the back of the spoon, make it into a circle and cook until it starts to bubble.
Flip over and cook the other side.
Keep them warm while you cook the rest.
To make the sauce:
Put all the ingredients together in a small saucepan and gently heat to melt the sugar.
Bring to the boil and simmer for 5 minutes.
Allow to cool slightly and thicken, then pour over the pancakes.