This dish is sure to keep you 'satay'sfied ! This recipe is an easy satay noodle dish with houmous. An easy midweek meal for four. Satay no more.
Satay Houmous Noodles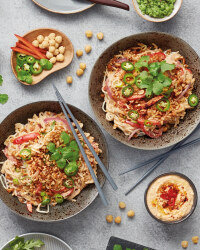 Recipe Information
Ingredients
2 x packs 300g Ready To Wok Noodles
2 x 200g packs Sweet Chilli Houmous
2 x Red Peppers
2 x medium Red Onions
8 x Spring Onions
50g Dry Roasted Peanuts
1 x 400ml Coconut Milk
50ml Soy Sauce
1 x Green Chilli, approx. 20g
6g fresh Coriander, chopped
1 tsp Chilli Powder
60ml Rapeseed Oil
Method
Peel the red onions, halve and slice thinly. Cut the peppers in half, remove any white pith and seeds and slice thinly. Wipe, trim and thinly slice the spring onions. Chop the peanuts. Finely chop the chilli – keep the seeds in if you want a hotter taste.
Heat the oil in a wok or large frying pan. Sauté the red onion, peppers, chilli and spring onions for 5 minutes. Then add the noodles and cook for a further 8 minutes. Add the houmous, coconut milk and the soy sauce. Cook, stirring, for another 5 minutes, then add the chopped nuts and the coriander. Cook for a few more minutes, then serve sprinkled with the chilli powder.