Soft cheese sandwich squares served on a skewer.
Sandwich on a Stick - Ham and Cheese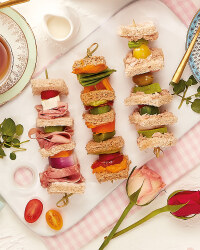 Recipe Information
Ingredients
5 x slices White or Wholemeal Bread
8 x slices Wafer Thin Ham
4 x Radish
4 x Yellow Baby Tomatoe
s 4 x cubes Feta Cheese
1 x Mini Cucumber – cut into 4
4 x Red Onion Slices
4 x cubes Red Leicester Cheese
100g Soft Cheese
4 x Wooden Kebab Sticks
Method
Cut the crusts off the bread slices and cut each slice into 4 squares.
Spread the soft cheese over the top of the bread squares.
Allowing 5 bread squares for each stick, alternate the other ingredients around them on each stick, allowing 2 slices of ham per stick.
Other Sandwich on a Stick recipes: