Chilled sandwich cake layered with bread, soft cheese, cucumber and smoked salmon slices.
Sandwich Cake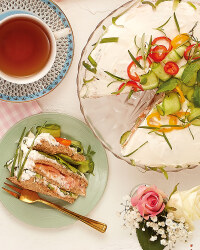 Recipe Information
Ingredients
16 slices of Medium Sliced Wholemeal Bread
600g Soft Cheese
100ml Single Cream
1 x 200g pack Smoked Salmon
1 x pack Baby Cucumbers
8 x Iceberg Lettuce Leaves
To decorate -Spring Onions, Sweety Drop Red Pepper, Herbs from the garden
Method
Cut the crusts off all the bread slices. Put 4 together on a chopping board in a square shape. Put a 20cm plate or quiche tin base on top of the 4 slices and cut around – to give you a round shape of bread (although it will be made up of 4 quarters). Do this with the rest of the slices – you will have 4 lots of round bread.
Mix the soft cheese with the single cream. Thinly slice 2 of the cucumbers. Put a round of bread (4 quarters) on a flat plate. With a palette knife, spread some of the soft cheese over the top, filling in the cracks between the quarters then top this with the sliced cucumber.
Put another round of bread on top and spread with the soft cheese as before. Then top this with the smoked salmon slices, another round of bread and soft cheese. Top this with the lettuce leaves, then the final round of bread.
Gently ice the top and sides with the remaining soft cheese. Put in the fridge to chill for an hour. Decorate with strips of spring onion, cucumber ribbons and the drop peppers and include any edible flowers or herbs from your garden.