A classic and hearty party favourite.
Salted Caramel Brownies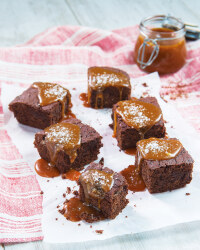 Recipe Information
Ingredients
For the brownies:
225g Unsalted Butter, softened (plus a little extra for greasing)
250g 70% Dark Chocolate
250g Caster Sugar
4 Large Eggs
150g Self-Raising Flour
For the caramel sauce:
4 tbsp Water
140ml of Double Cream
50g Butter
1 tsp of Sea Salt
Method
Pre-heat your oven to 180°c / 160c° / gas mark 4. Grease a 20 x 30cm brownie tin with butter and then line with baking paper.
Place the butter in a large saucepan and melt gently over a medium to low heat. Break the chocolate into chunks and stir through the butter until melted, keeping it over a low heat.
Transfer your chocolate sauce to a large mixing bowl. Add the caster sugar and mix well with a wooden spoon until combined. Crack your eggs into a smaller bowl and whisk before adding them to the chocolate sauce. Mix again until combined before sieving in the flour. Gently fold in the flour until you have a thick brownie batter. Pour into the brownie tin and bake for 25 minutes.
Meanwhile, make your caramel sauce. Place the sugar and water in a heavy-based frying pan. Cook over a medium heat, stirring with a wooden spoon, until the sugar has dissolved. Turn up the heat until the sugar starts to bubble. Let it bubble for about 5 to 8 minutes, stirring constantly, until it transforms from liquid back to a solid texture that resembles snow and then finally until it melts again into an amber caramel.
Take the caramel off the heat. Be careful, it will be extremely hot. Let it cool slightly before very gradually and carefully adding the double cream and mixing through. Add in the butter and mix through until you have a thick, glossy caramel sauce. Seasoning with the sea salt to makes this a salted caramel sauce.
Remove the brownies from the oven and allow to cool before slicing into about 16 pieces. Serve with a blob of salted caramel sauce with an additional sprinkling of sea salt on top for good measure.