Salmon Koulibiac with Kale Braised in Coconut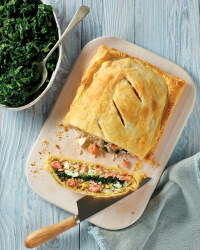 Recipe Information
Ingredients
1 x 220g pack Thai Chilli marinated salmon fillets
200g long grain rice
2 eggs
225g spinach, washed
1 x 375g ready rolled puff pastry
a little milk for brushing
2 tsp sunflower oil
1 clove garlic, crushed
1 tbsp light soy sauce
1 tsp lemon juice
½ can coconut milk
pinch sugar
200g kale, washed
Method
Cook the salmon fillets, using your preferred method, as directed on the pack.
Cook the rice in boiling water until just done but still firm, drain.
Hardboil the eggs then shell and chop.
Wilt the spinach in a large, lidded pan using just the water that remains on the leaves after washing.
Squeeze any excess water from the spinach.
Remove the skin and flake the cooked salmon.
Stir into the rice along with the chopped hardboiled eggs and some seasoning to taste.
Unroll the pastry, cut into two – one piece slightly larger for the lid.
Place the smaller base piece on a lightly oiled baking sheet.
Place ½ of the rice and salmon mixture onto the pastry, leaving a clear border all round, add a layer of spinach and then the remaining rice mixture, pressing the mixture down to help hold it together.
Brush the border with a little milk then cover with the remaining pastry.
Use a fork to press down and seal the edges and make a couple of slashes in the top.
Brush all over with milk then cook in the centre of the oven for around 30 mins until risen and golden brown.
Whilst the pastry parcel is cooking prepare the kale - heat the oil in a large pan and add the garlic, Saute for a minute then add the soy, lemon juice, coconut milk and a pinch of sugar.
Bring to a simmer then stir in the kale.
Cover and cook over a gentle heat, stirring occasionally, for around 6 mins until the kale is tender.