Enjoy this healthy dinner recipe taken from RTE's Operation Transformation
Salmon in a Parcel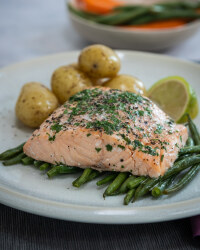 Recipe Information
Ingredients
250g baby new potatoes
1 small orange
1 lime
400g green beans ( in parcel and on side with carrots)
2 carrots
2 salmon fillets (each about 150g)
5g fresh flat-leaf parsley
1 tsp rapeseed oil (5g)
sea salt and freshly ground black pepper
Method
Preheat the oven to 200C / 400F / gas mark 6. Put the potatoes in a saucepan fitted with a petal steamer and cook for 15-20 minutes until tender (or if you have double steamer use it for both the potatoes and vegetables).
Cut heavy-duty foil into 2 x 40 x 27.5cm pieces and cut parchment into 2 x 20cm squares, then place the parchment squares on the pieces of tin foil. Cut the orange and half of lime into thin slices and arrange on the parchment. Cut the remaining lime half into 2 wedges and reserve for garnishing.
Trim the green beans. Cut the carrots into batons similar in size to the green beans. Scatter half of the green beans over the citrus slices and put a piece of salmon on top. Season lightly with a little salt, if using and pepper to taste. Finely chop the parsley and sprinkle on top and drizzle over the oil.
Fold the parchment over the fish; draw edges together and crimp with fingers to form tightly sealed packets. Place on a baking sheet and roast for 15 minutes until the salmon flakes easily with a fork and is piping hot.
Put the rest of the green beans with the carrots in a saucepan fitted with a petal steamer and cook for about 5 minutes until tender.
Open the salmon parcels carefully to allow steam to escape and arrange the salmon on plates with the baby new potatoes, steamed carrots and green beans. Garnish with the lime wedges to serve.