These gluten free salmon fishcakes make the perfect light lunch or quick tea. Ready in only 7 minutes, they make the perfect easy meal after a long day.
Salmon Fishcakes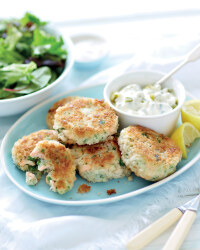 Recipe Information
Ingredients
300g Potatoes suitable for mashing
100g Salmon Fillet
80g Green Beans
1 tbsp Freshly Chopped Parsley
Zest from ½ Lemon, finely chopped
50g Gluten Free
White Bread
1 Egg, beaten
30g Mixed Seeds, such as Sunflower and Pumpkin
A little Oil to cook 4 tbsp Light Mayonnaise
40g Gherkins, chopped
1 bag Mixed Baby Salad Leaves
Method
Peel the potatoes and cut into even-sized pieces.
Cook in boiling, salted water until tender.
Drain and return to the hot pan to dry off any moisture.
Meanwhile, poach the salmon in seasoned simmering water for around 8 minutes and cook the green beans in salted water until just tender.
Chop the beans into ½cm pieces.
Remove the skin from the salmon then flake the flesh.
Mash the potatoes then stir in the salmon, green beans, parsley, lemon zest and seasoning.
Divide the mixture into 8 and form each into a flattened round.
Put the bread into a food processor (or use a stick blender) and whiz to form crumbs.
Mix the seeds into the crumbs and then tip into a plate.
Dip each fishcake first into beaten egg and then into the crumb mixture.
Heat a small amount of oil in a non-stick frying pan and cook the fishcakes over a low heat for 5 minutes on each side.
Stir the chopped gherkins into the mayonnaise and serve with the fishcakes, together with the salad leaves.
Please check all our products on the online guide provided here. Read all labels in case manufacturing processes have changed.