A scrumptious sage, onion and sausage plait recipe made with puff pastry.
Sage and Onion Sausage Plait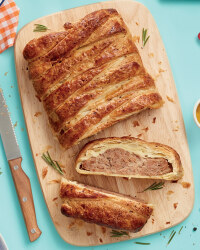 Recipe Information
Ingredients
1 large Onion, peeled and finely chopped
1 clove Garlic, crushed
1 tbsp Sunflower Oil
1 tbsp freshly chopped Sage Leaves
2 slices Multigrain Bread
400g pack Irish Pork Sausages
1 large Egg, beaten
375g pack Ready Rolled Puff Pastry
Method
Pre-heat the oven to 200°C/400°F/Gas Mark 6.
Sauté the onion and garlic in the oil until softened but not browned.
Stir in the sage leaves and remove from the heat.
Break the bread into chunks and place in a blender or food processor.
Whizz until crumbs are formed.
Add these to the onion mixture.
Use a small sharp knife to slit the sausage skins lengthways and remove the meat, discarding the skins.
Add the sausage meat to the onion mixture, mix well and season with freshly ground salt and black pepper.
Reserve around 1 tablespoon of beaten egg for glazing and add the remainder to the sausage meat filling.
Unroll the pastry and, with the short edges to the sides, place the filling down the centre 1/3 pastry leaving around 3cm pastry free at the top and bottom.
Cut the pastry on either side of the filling at a slight diagonal at approximately 1.5cm intervals.
Use half the reserved egg to brush over the pastry.
Fold over the pastry at the top and bottom and then, starting at the top, take pastry strips from alternate sides and overlap to cross like a plait.
Brush with the remaining egg.
Place on a baking sheet and cook in a pre-heated oven for around 35-40 minutes until golden brown.