Roasted carrot and courgette salad with feta cheese and walnuts.
Roasted Spiralised Carrot & Feta Salad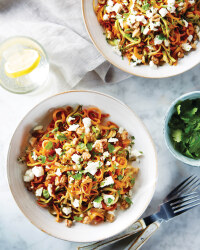 Recipe Information
Ingredients
2 Courgettes, washed and trimmed
2 Carrots, trimmed and peeled
2 tbsp Olive Oil
1 tbsp Balsamic Vinegar
Freshly ground Salt and Black Pepper
100g Feta Cheese, crumbled
50g Walnut Pieces
1 tbsp Fresh Parsley, chopped
Method
Pre-heat the oven to 200°C/Fan 180°C/425°/Gas Mark 6.
Spiralise the courgettes and carrots using the 'thin spiral cone'.
Place in a bowl and add the oil, vinegar and seasoning and mix well.
Spread the vegetables onto a large (or 2 smaller) baking tray and roast for around 7-8 minutes, stirring a couple of times.
Meanwhile, toast the walnuts in a dry pan, stirring frequently to prevent burning, then tip onto a plate to cool.
Remove the vegetables from the oven and place in a serving bowl.
Sprinkle over the cheese, walnuts and finally the parsley.
Delicious served as a light lunch or as an accompaniment to grilled meats or fish.