Our amazing Chickpea Gyros recipe is an easy to make vegetarian lunch for any occasion!
Roasted Chickpea Gyros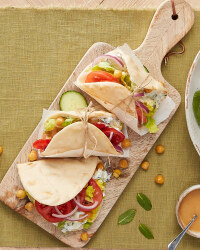 Recipe Information
Ingredients
1 x pack 6 folded flatbreads
1 x 400g tin Chickpeas
1 x 200g Vine Tomatoes
1 x pack 2 Little Gem Lettuce
1 x Red Onion
150ml Greek Yoghurt
½ Cucumber
25ml Olive Oil
½ tsp Garlic Granules
1 x tsp Paprika
Sea Salt and Black Pepper
Method
Preheat the oven to 180c/350f/gas 4.
Mix the olive oil with the garlic granules and the paprika and season with some salt and black pepper.
Drain the chickpeas and wipe dry.
Put chickpeas in a baking tray, drizzle over the olive oil mixture and roast in the oven for 15 minutes.
Grate the cucumber and sprinkle with a little salt – leave in a bowl for 5 minutes.
Put the grated cucumber in a clean tea towel and wring out all the water.
Mix the cucumber with the yoghurt.
Thinly slice the tomatoes.
Peel, half and thinly slice the red onion.
Shred the lettuces.
To assemble, spread the tzatziki on one half of each of the flatbreads, sprinkle over the chickpeas, divide the lettuce, red onion and tomatoes between them - fold over and serve.