Crispy roast pork loin, served on a bed of oven baked vegetables.
Roast Pork & Vegetable Casserole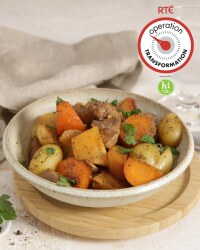 Recipe Information
Ingredients
300g Pork Tenderloin
2 x Garlic Clove
1 Carrot
320g Turnip (you need 200g)
300g Baby New Potatoes
120ml Chicken Stock
4 x tbsp reduced sodium Soy Sauce (60g)
1 tbsp Balsamic Vinegar (15g)
Dash of Hot Sauce (such as Tabasco)
5g fresh Flat-leaf Parsley Leaves
Freshly ground Black Pepper
Method
Preheat the oven to 160°C/325°F.
Trim the pork tenderloin and cut into 2.5cm cubes. Put into a casserole dish with a lid.
Take a clean chopping board and trim the garlic, then peel and crush to a paste with a garlic crusher.
Peel the carrot and trim, then cut into bite-sized chunks.
Peel the turnip and cut into bite-sized chunks – you need 200g in total.
Cut the baby new potatoes in half, if necessary and add all the vegetables to the casserole.
Pour in the chicken stock into a jug and add the soy sauce, balsamic vinegar, hot sauce and season with freshly ground black pepper.
Whisk to combine and then pour over the pork and vegetables.
Cover with a lid and bake for 1 hour or until the pork is completely tender and piping hot and the juices run clear. Test with a small sharp knife.
Divide the roast pork and vegetable casserole between bowls and season with freshly ground black pepper.
Tear over the parsley leaves to serve.