Roasted Cajun chicken served on a warm part - baked roll. Served with crisp Iceberg and a squeeze of fresh lime.
Roast Cajun Chicken Baguette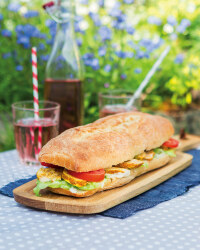 Recipe Information
Ingredients
1 whole Baguette, part-baked
4 tbsp Mayonnaise
1 clove of Garlic
The juice of half a Lime
4 leaves of Iceberg Lettuce
1 large Tomato
Pack of Roast Cajun Chicken
Method
Place the baguette on a baking tray and splash with a little water. Bake in the oven according to the packet's instructions. Allow to cool.
Meanwhile, put the mayonnaise in a small bowl. Finely grate in the garlic clove and add the lime juice. Mix well.
Slice the baguette and spread the garlic and lime mayonnaise all over the inside of the baguette.
Tear the iceberg lettuce leaves and add to the baguette. Top with the Cajun Chicken. Slice the tomato and arrange in the baguette. Pack whole and refrigerate until you're ready to go.
Include a bread knife in your picnic basket so that you can slice the baguette when you arrive at your picnic destination.