Succulent and tasty BBQ infused beef kebabs served with a delicious beetroot salad.
Rio Beef Kebabs with Beetroot Salad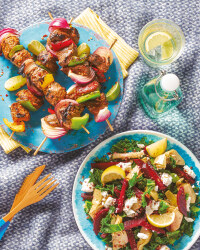 Recipe Information
Ingredients
2 x Sirloin Steaks
400g Beetroot
200g Curly Kale
280g Jar Artichokes
2 x Medium Red Onions
1 x Green Pepper
1 x Yellow Pepper
BBQ Marinade
Black Pepper
4 x Wooden or Metal Skewers
Method
If using wooden skewers – soak them in some cold water while you prepare the recipe.
Cut the steaks into medium sized chunks.
Put into a bowl and add some of the BBQ marinade, mixing well.
Peel the red onions and cut into wedges.
Cut the peppers into chunks, the same size as the beef.
Divide the beef, peppers and red onions between the 4 skewers.
Then put to one side and make the salad.
Put the curly kale into a large bowl, pour over some boiling water – leave for a minute – and then drain well.
Cut the beetroot into strips.
Put the kale and the beetroot together in a bowl.
Pour the oil from the artichokes over the salad.
Cut the artichokes into smaller pieces, add to the salad, season with some black pepper and mix well.
Either grill or barbecue the kebabs for about 10 minutes, turning as you cook and serve alongside the salad.