A delicious combination of fried veg and rice. Topped with Mozzarella.
Ratatouille Rice Salad with Mozzarella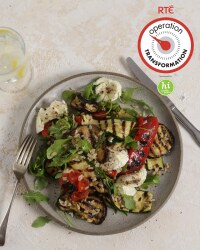 Recipe Information
Ingredients
80g Brown Wholegrain Rice
1 Red Pepper
1 Small Aubergine
2 x Courgettes
2 x Ripe Plum Tomatoes
2 x tbsp Olive Oil (30g)
1 x tbsp Red Wine Vinegar (15g)
125g Ball Mozzarella Cheese
50g Rocket Leaves
Salt (optional) and freshly ground Black Pepper
Method
Meanwhile, rinse the rice in a sieve and put in a pan with 250ml of water.
Bring to the boil, then reduce the heat and cover with a lid.
Simmer for 25 minutes and then leave to sit for another 10 minutes for perfectly cooked rice.
Cut the red pepper into quarters and remove the seeds. Trim the aubergine and cut into slices about 0.5cm thick.
Trim the courgettes and cut into slices lengthwise that are each about 0.5cm thick.
Cut the plum tomatoes in half and using a small sharp knife remove the cores.
Place all the vegetables in a large bowl and toss in the oil, then season lightly with salt (optional) and plenty of freshly ground black pepper.
Heat a griddle pan over a medium to high heat.
Add the vegetables to the griddle pan, working in batches to avoid crowding the pan.
Cook for 3-4 minutes on each side until lightly charred and tender.
Cook the cut sides of the tomatoes for 1-2 minutes until nicely charred.
As the vegetables are cooked return them to the bowl and once they are all done.
Fold in the vinegar and the rice and then carefully fold in the rocket.
Arrange the ratatouille rice salad on plates and tear over the mozzarella to serve.