Raspberry Chicken Drumsticks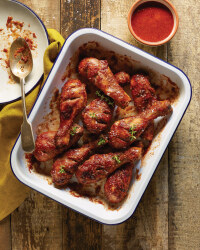 Recipe Information
Ingredients
150g pack Fresh Raspberries
1kg pack Chicken Drumsticks
35ml Soy Sauce
35ml Balsamic Vinegar
45g Sweet Chilli Sauce
35g Soft Brown Sugar
2 large cloves Garlic
Method
Pre-heat the oven to 200oC/400oF/Gas Mark 6.
Peel and chop the garlic. Put the raspberries, garlic, soy and sweet chilli sauces, balsamic vinegar and brown sugar into a food processor and blitz until well blended.
Cut a few slashes in the chicken drumsticks with a sharp knife then put them into a baking tray.
Pour over the raspberry sauce and gently rub into the cuts.
Roast in the oven for 40 minutes, then serve.