Crispy and bursting with flavour, these fritters are a healthy dinner option.
Quinoa and Vegetable Fritters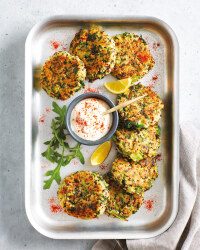 Recipe Information
Ingredients
150g Quinoa
75g cooked Broccoli
1 Spring Onion
1/2 Courgette (grated)
50g cooked Kale
1 tbsp freshly chopped Mint
1 tbsp freshly chopped Parsley
2 Large Eggs (beaten)
50g Gluten Free Plain Flour
30g Parmigiano Reggiano
1 tbsp Olive Oil
75g Natural Yogurt
1 tbsp Lemon Juice
1/2 tsp Paprika
Method
Rinse the quinoa and then cover with 300ml cold water, bring to the boil and then simmer for 10-15 minutes until fluffed up and cooked through then leave to cool.
Add the cooked kale and broccoli to the quinoa along with the spring onion, grated courgette, mint and parsley and combine.
Next add the flour, eggs and Parmigiano and mix until smooth. Heat the oil in a frying pan and add 1-2 tablespoon of mix per fritter into the pan.
Cook for 5 minutes until crisp and then flip over and cook for another 5 minutes.
Mix the yogurt with the lemon juice and paprika and serve.