This has to be a family favourite for breakfast all year round.
Quick Banana and Blueberry Pancakes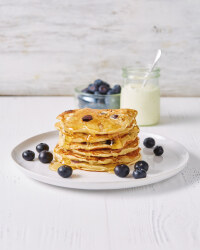 Recipe Information
Ingredients
2 Small Bananas
150g Blueberries
100g Plain Flour
15g Caster Sugar
1 medium Egg, beaten
1 flat tsp Baking Powder
160ml Semi Skimmed Milk
Pinch of Salt
Coconut Oil
Method
Peel and mash the bananas then mix with the milk and the egg.
In another bowl mix the flour, caster sugar, salt and baking powder and whisk well. Make a well in the middle of the flour mix, add the banana milk and mix together.
Heat a little oil in a large frying pan. Using a tablespoon, ladle spoonfuls of the batter into the frying pan, shape into rounds and sprinkle some blueberries on the top. Cook for a few minutes on each side. Keep warm while you make the rest.
Serve with extra blueberries and some maple syrup drizzled over.