Try something new with some roasted pumpkin fries with paprika and garlic mayonnaise dip.
Pumpkin Fries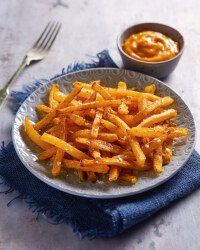 Recipe Information
Ingredients
1 Pumpkin, peeled and deseeded, approx. 800g Pumpkin flesh
2 tsp Cornflour
1 tsp Curry Powder
Dip –
75g Greek Yogurt
100g Mayonnaise
1 heaped tsp Paprika
2 cloves Garlic
Sea Salt, to serve
Method
Pre-heat the oven to 220oC/425oF/Gas Mark 7.
Cut the pumpkin flesh into thin chips. Put them in some cold water to soak for at least an hour (to remove some of the starch).
Meanwhile, make the dip. Peel and mince the garlic cloves then mix together with the mayonnaise, paprika and yogurt.
Drain the pumpkin chips and pat dry. Mix the cornflour and curry powder together and sprinkle over the chips. Mix well.
Put the chips spaced out on some baking trays. Bake in the oven for about 20-25 minutes, turning once until they are crisp and slightly browned. Serve with sea salt alongside the garlic dip.
Prep time – 15 mins, plus soaking Cook time – 20-25 mins