Get your dinner party going with this tasty traditional starter.
Prawn Cocktail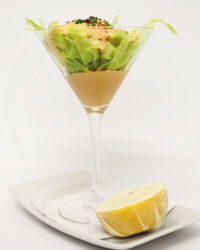 Recipe Information
Ingredients
600g Cooked Prawns
1 head of Iceberg Lettuce
2 Lemons
½ jar of Mayonnaise
5 tsp Worcestershire Sauce
5 tsp Tabasco Sauce
3 tbsp Ketchup
20ml Brandy
4 pinches Paprika
Method
Lay the prawns out on some kitchen paper. Add more kitchen roll on top and gently squeeze the prawns to drain them of any excess water.
Slice up the iceberg lettuce roughly, not too thinly.
For the sauce
Combine the mayonnaise, Tabasco, Worcestershire sauce, brandy and ketchup together.
To serve
You will need 4 serving glasses or bowls. Add a spoonful of sauce to the bottom of your glass. Divide the lettuce between the 4 glasses. Top with the prawns (divided equally). Now add a spoonful of sauce and finish with a pinch of paprika. Serve with a lemon wedge each.