This recipe is an exciting twist from the classic Masala. Prawn and apple are the perfect companions in this tasty dish.
Prawn & Apple Tikka Masala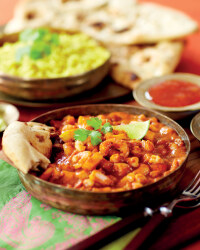 Recipe Information
Ingredients
2 x 200g packs Large Coldwater Prawns
2 Funsize Apples
1 x 500g jar Tikka Curry Sauce
1 x 250g pouch Microwaveable Pilau Rice
1 x 2 pack Garlic & Coriander Naan or Plain Naan
130g Low Fat Natural Yogurt
1 flat tbsp Mint Sauce
130g Mango Chutney
Method
Pre-heat the oven to 200°C/400°F/Gas Mark 6.
Core and finely dice the apples, add to a large frying pan or wok and cook gently for about 5 minutes.
In the meantime heat through the Naan bread in the oven for 3-4 minutes until hot.
Mix the mint sauce with the yoghurt and put into a small bowl; put the mango chutney in another bowl.
Cook the rice in the microwave for 2 minutes, as per instructions on the pack.
Put the prawns and any liquid from the pack in with the apple and tikka sauce, gently heat through - about 3 minutes - then serve alongside the rice, naan and the dips.