Prawn, Halloumi and Chorizo Kebabs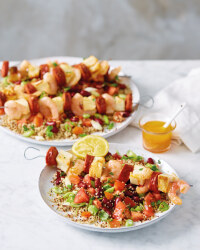 Recipe Information
Ingredients
150g pack Cooked and Peeled King Prawns
225g pack Halloumi
240g Couscous
200ml boiling water
1 200g Chorizo Ring
1 Lemon
400g tin Red Kidney Beans
200g Cherry Tomatoes
1 Red Onion
40ml Olive Oil
1 tsp Paprika
Salt and Black Pepper
4 wooden bamboo or metal kebab sticks
Method
Cut the halloumi into 16 squares and the chorizo into 16 thick slices. Then, make the kebabs, dividing the prawns, halloumi and chorizo between the 4 skewers.
Pour the boiling water over the couscous, allow to rest, then stir.
Cut the tomatoes into quarters, peel and finely chop the onion, and drain the kidney beans. Then, mix all together into the couscous.
Cut the lemon in half and juice one of the halves. Then, mix with the olive oil, season with some salt, black pepper and paprika, mixing well into a dressing.
BBQ or grill the kebabs for 8 minutes, turning after 4 minutes.
Slice the remaining lemon into 4. Serve the kebabs on top of the couscous, alongside the dressing and lemon quarters.