Poultry Gravy recipe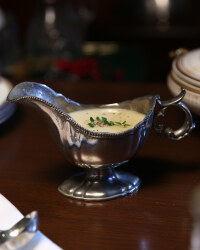 Recipe Information
Ingredients
1 Turkey Neck or 2 raw Chicken Drumsticks
1 large Carrot
2 medium Onions
1 Celery Stick
1 litre Water
2 Chicken Stock Cubes
200ml White Wine
30g Butter
30g Plain Flour
Sea Salt and White Pepper
Method
Peel and quarter the onions and chop the carrot and celery in half.
Place in a saucepan along with the turkey neck or drumsticks.
Pour over the water and wine and bring to the boil.
Crumble in the stock cubes, mix well then cover and simmer for an hour.
Drain, reserving the liquid and discard the rest.
Melt the butter in a small saucepan, add the flour and cook for a couple of minutes on a low heat.
Add the liquid stock and whisk until thickened, then season with a little salt and pepper.