These seasoned potato cups will perfectly complement roasts and grilled meats.
Potato Cups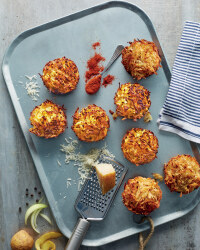 Recipe Information
Ingredients
1kg Maris Piper Potatoes
1 medium Onion
50g Parmigiano Cheese
1 heaped tsp Paprika
1 flat ts Garlic Granules
Sea Salt and Black Pepper
Rapeseed Oil to grease
12 hole muffin tin
Method
Pre-heat the oven to 200°C/400°F/Gas Mark 6.
Peel and coarsely grate the potatoes.
Put into a clean tea towel and squeeze out any excess moisture.
Put into a large bowl and pat dry.
Add the paprika and garlic granules, then season with some sea salt and black pepper.
Peel, halve and finely dice the onion and add to the potatoes.
Finely grate the Parmigiano and add to the potato mixture. Mix well.
Lightly grease the muffin tin with some oil.
Divide the mixture between the tins.
Bake in the oven for 40 minutes until crisp and brown.
Allow to cool slightly before removing from the tins.
Great served with roasts and grilled meat.