Quick and easy potato kebabs with pepper and onion - perfect for the barbeque.
Potato BBQ Kebabs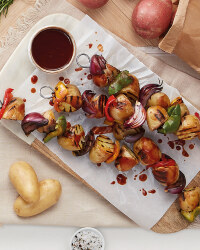 Recipe Information
Ingredients
1kg Irish White Potatoes
2 x Red Onions
1 x pack of 3 Peppers
For the sauce:
80ml Tomato ketchup
20ml White Wine Vinegar
20ml Soy Sauce
1 x Heaped tsp Smoked Paprika
20ml Orange Juice
8 x Metal or Wooden Kebab Skewers
(If using wooden ones soak in some cold water for a few hours before using)
Method
Wash and cut the potatoes into 3cm chunks and boil in some salted water for 5 mins until just tender, then drain well.
Meanwhile, peel the red onions and cut into wedges and cut the peppers into chunks, discarding any white pith or seeds.
Alternate the potatoes, peppers and onions on the skewers and then BBQ or griddle the kebabs for 15 mins, turning as you cook.
In the meantime, make the sauce by mixing together all the sauce ingredients in a bowl.
Brush most of the sauce mixture over the kebabs for the last few mins of their cooking time and serve the rest to drizzle over.