Try these mouth-watering pork loin chops cooked in a cider jus.
Pork Loin Chops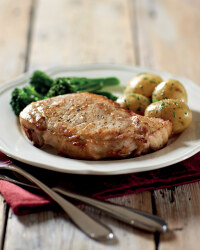 Recipe Information
Ingredients
4 Irish Boneless Pork Loin Chops
250ml Irish Cider
20g Butter
500g Potatoes
1 head Broccoli
Method
Pre-heat the oven to 170°C Fan/190°C/ Gas Mark 5.
Place the chops in an ovenproof dish and pour over the cider.
Dot with butter and cook in a pre-heated oven for around 35-40 minutes.
Meanwhile, cut the potatoes into even sized pieces and cook in boiling salted water for 15-20 minutes or until tender.
Break the broccoli into florets and steam or boil for around 5 minutes.
Remove the cooked chops from the oven and keep warm.
Pour the cooking juices into a small saucepan and cook over a high heat until the cider is reduced in volume and slightly thickened.
Season to taste and serve along with the chops, potatoes and broccoli.