Pork in Rosemary and Garlic Sauce
Pork in Rosemary and Garlic Sauce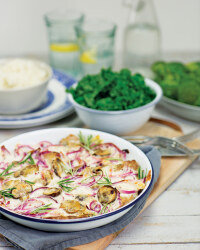 Recipe Information
Ingredients
1 packet of Pork Chops, fat trimmed off, or Pork Steak
250g Natural Yogurt
1 tsp Plain or Corn Flour
1 Red Onion, thinly sliced
1 tray of Mushrooms, sliced
1 tbsp Fresh Rosemary, chopped
3 cloves Garlic, crushed
1 tsp Wholegrain Mustard
1 tbsp Oil
Salt and Pepper
Cauliflower
Low Fat Cream Cheese
Method
Pre-heat the oven to 180°C/350°F/Gas Mark 4.
In a bowl, mix together the yogurt, flour, rosemary, mustard, garlic, salt and pepper.
In an ovenproof dish, heat the oil until hot and sear the chops, 2 at a time, on each side until browned then set aside.
Next, fry the red onion and mushrooms until soft. Put the pork back into the pan with the onions and mushrooms.
Spoon the yogurt mixture on top – no need to mix in as it will melt in around the pork.
Put the lid on and bake in the oven for 40 minutes, until the pork is cooked through.
To make the cauliflower mash, bring a big pot of salted water to a boil. Add the cauliflower and cook until soft (approx. 10 minutes).
Save ¼ of a cup of cauliflower water on the side and drain the rest away.
Place the cauliflower in a food processor. Add 3 tbsp of the cream cheese, the reserved water, 1 tbsp at a time, and purée until smooth. Season to taste.
Serve with cauliflower mash and some steamed broccoli and Brussels sprouts!