Enjoy this healthy dinner recipe taken from RTE's Operation Transformation.
Pork Chops Cacciatore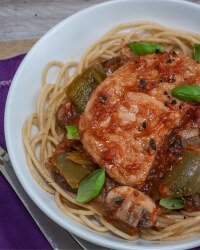 Recipe Information
Ingredients
2 pork loin chops (well trimmed)
1 small onion
1 green pepper
200g mushrooms (chestnut or ordinary)
2 celery sticks
1 garlic clove
1 tsp dried basil or handful of fresh basil leaves
400g tin chopped tomatoes
1 tsp cornflour (5g)
1 tsp water
80g wholewheat spaghetti
sea salt and freshly ground black pepper
Method
Preheat the oven to 160C / 325F / gas mark 3. Put the pork loin chops in a small casserole dish with a lid (or if you don't have one use a small roasting tin lined with parchment paper and tin foil for the lid).
Cut the onion in half and peel off the skin, then cut into slices, discarding the root. Cut the pepper in half and remove and discard the core and seeds, then cut into bite-sized pieces. Trim the mushrooms and cut into slices. Trim the celery sticks and cut into slices. Peel and grate the garlic on the fine side of a box grater.
Scatter all of the vegetables over the pork chops. Stir the garlic and dried basil into the tomatoes and season lightly with salt and plenty of freshly ground black pepper. Pour over the pork and vegetables so that they are covered completely. Put on the lid and cook for 1 hour until the pork is piping hot with no pink meat and the juices run clear.
Remove the casserole from the oven and mix the cornflour with the water to a smooth paste, then stir into the sauce. Return to the hob for 1-2 minutes to thicken.
Meanwhile, cook the spaghetti in a pan of boiling water with a pinch of salt, if using for 10-12 minutes or according to packet instructions. Drain in a colander into the sink. Divide the spaghetti among wide rimmed bowls and using tongs put a pork chop on top, then spoon over the vegetables and sauce. Garnish with the fresh basil leaves, if using to serve.
Once made this recipe can be put in the fridge within 2 hours of cooking and can be stored in an airtight container for up to 3 days. Only reheat once in the microwave or in a saucepan or casserole with a lid over a gentle heat when ready to eat. It can also be made very successfully in a slow cooker – simply follow the instructions above but put the cornflour and water mixture in at the beginning and cook on low for 4 hours.