Enjoy this healthy dinner recipe taken from RTE's Operation Transformation
Pork & Carrot Stir-Fry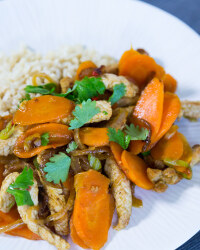 Recipe Information
Ingredients
80g wholegrain brown rice
2 garlic cloves
1 red chilli (optional)
2 pork loin chops
1 1/2 tsp ground cumin (7.5g)
1 tbsp reduced sodium soy sauce
1 onion
4 carrots
2 scallions
1 tbsp rapeseed oil (15g)
2 tsp chopped fresh coriander (10g)
freshly ground black pepper
Method
If time allows, marinate the pork and keep in a bowl covered with clingfilm for up to 3 days on the bottom shelf of the fridge.
Rinse the rice well in a sieve and then put into a small saucepan with 250ml of water and a pinch of salt, if using. Bring to the boil, then reduce the heat and cover with a lid. Simmer for 25 minutes without lifting off the lid, then turn off the heat and leave to sit for another 10 minutes for perfectly cooked rice (or simply cook according to packet instructions). This rice can sit happily for up to 30 minutes with the lid on.
Meanwhile, peel the garlic and use a garlic crusher or grate on the fine side of a box grater. Cut the red chilli in half and remove the seeds with a teaspoon, then finely chop, if using. Cut the pork chops into strips and place in a bowl with the prepared garlic and chilli, if using with the cumin and soy sauce, stirring to combine. Set aside at room temperature to allow the flavours to develop.
Cut the onion in half and peel off the skin, then cut into thin slices. Peel and cut the carrots into thin slices. Trim the scallions and thinly slice on the diagonal.
Heat a wok or large frying pan over a medium heat. Add the oil and sauté the onion and carrots for 2-3 minutes until just beginning to pick up a bit of colour, stirring occasionally with a wooden spoon. Add the scallions and stir-fry for another minute. Tip in the marinated pork and stir-fry for 3-4 minutes until the pork is piping hot with no pink meat and the juices run clear and the carrots still have a little crunch left. Season with pepper.
Fluff up the rice and divide between bowls and spoon the pork and carrot stir-fry on top. Scatter over the coriander before serving.