A simple yet colourful classic: juicy salmon with fresh vegetables and rice. A great healthy option for lunch or dinner
Poached Salmon with Crisp Vegetables and Rice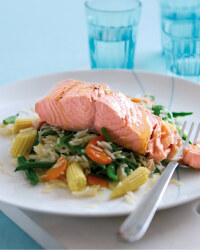 Recipe Information
Ingredients
85g Mangetout
85g Baby Sweetcorn
200g Green Beans
2 Medium Carrots, peeled
4 x Salmon Fillets
2 tbsp Olive Oil
Dash Vinegar, for the cooking water
1 packet Aldi Basmati microwavable rice
Salt
Pepper
Method
Place a medium saucepan on the stove just over half full of water and add a pinch of salt.
Meanwhile, cut the mange tout in half.
Cut the carrots into small pieces similar size to the mangtout, then repeat the same with the beans.
Place the vegetables into the cold water, and then bring to the boil.
Warm the rice in the microwave and keep warm.
Make the vinaigrette by whisking the oil with the vinegar and a little salt and pepper.
Once the veg are boiling, strain straight away, keeping the water boiling, then add a dash of vinegar.
Drop the salmon fillets in and simmer for 5 minutes.
Whilst the salmon is cooking, heat a wok or frying pan with 2 tbsp olive oil, then add the veg.
Cook the veg for 4-6 minutes, stirring occasionally, to brown slightly.
The salmon and the veg will be ready at the same time.
Stir the warm rice into the vegetables along with the 2 tbsp oil and the 1 tbsp vinegar, mix well.
Season with salt and pepper.
Serve the rice and veg into a bowl or plate, then lift out the cooked salmon and place on top.