Packed with flavour, this Pizza Pasta dish is super satisfying and easy to make.
Pizza Pasta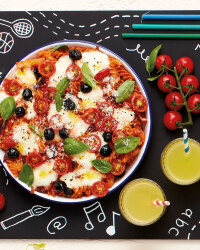 Recipe Information
Ingredients
350g Fusilli Pasta
1 x large Red Onion
1 x 500g jar Smooth Tomato Pasta Sauce
1 x 240g Mozzarella
80g Hot Pepperoni Slices
150g Piccolo Tomatoes
28 Black Olives
50g grated Parmesan Cheese
Basil Leaves
Black Pepper and Sea Salt
Chilli Oil
Method
Pre-heat the oven to 200°C/Gas Mark 6.
Cook the pasta in some boiling salted water for 15 minutes – drain well.
Peel and finely chop the onion.
In a large bowl, mix the pasta with the tomato sauce and the chopped onion.
Divide this into 4 round ovenproof dishes (or one large one).
Cut the pepperoni into quarters.
Cut the tomatoes in half.
Drain the mozzarella and chop into small chunks.
Scatter the tops of the pasta with the pepperoni, tomatoes, mozzarella and the olives.
Bake the pasta in the oven for 15 minutes.
Serve topped with some basil leaves and drizzle with some chilli oil.
Serve with the parmesan cheese and black pepper.