This delightful lunch option is as delicious as it is healthy.
Pesto Scrambled Egg with Avocado & Spinach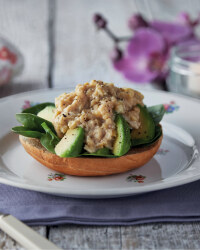 Recipe Information
Ingredients
2 Bagels
4 Large Eggs
1 tsp Specially Selected Pesto
25g Salted Butter, plus some extra for spreading
20ml Single Cream
24g Fresh Spinach Leaves
1 ripe Avocado
Freshly squeezed Lemon Juice
Salt and Black Pepper
Method
Cut the avocado in half, lengthways, remove the stone and scoop out the flesh in one piece with a dessertspoon.
Slice thickly and squeeze over lemon juice to prevent it from discolouring.
In a bowl add the eggs, cream and the pesto, season with some salt and black pepper and whisk.
Melt the butter in a small saucepan then add the egg mixture and cook on a gentle heat, gently stirring until set, but still soft.
Cut the bagels in half, toast and lightly butter them.
Place spinach leaves on top of the four sides, then avocado and finally, top with the scrambled egg mixture.