If you want something simple, fresh and filling, this Pesto Courgetti is it.
Pesto Courgetti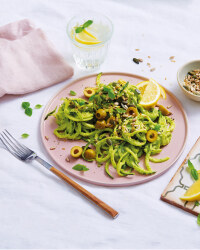 Recipe Information
Ingredients
4 x Large Courgettes
1 x large ripe Avocado
Juice x 1 Lemon
50g Cashew Nuts
1 clove Garlic
20ml White Wine Vinegar
60ml Olive Oil
20g Fresh Basil Leaves
10g Green Superblend Powder
1x70g pack Sunshine Selection Seeds
100g Green Pitted Olives
Sea Salt and Black Pepper
Method
Chop the cashew nuts into small pieces.
Dry fry them in a frying pan until just browned.
Peel and finely chop the garlic.
Tear the basil leaves into small bits.
Put the olive oil, lemon juice, white wine vinegar, avocado flesh, basil, garlic, cashew nuts and the Superblend powder into a food processor.
Pulse until you have a thick pesto.
Using your Spiralizer, make your courgettes into spirals.
Boil in some salted boiling water for 20 seconds.
Drain, and gently mix through the pesto.
Cut the olives in half and scatter over the top along with the seeds, season with some black pepper and serve.