Delectable Perry Lamb served in pear cider, ginger and honey.
Perry Lamb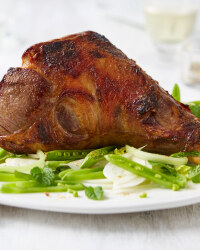 Recipe Information
Ingredients
½ Leg of Lamb, approx. 1.04kg
250ml Pear Cider
80g Manuka Honey
2 flat tsp Ground Ginger
Sea Salt and Black Pepper
Method
Pre-heat the oven to 200°C/400°F/Gas Mark 6.
Mix together the cider, honey and ginger, season with a little salt and black pepper.
Line as roasting tin with some tin foil. Put in the lamb, make a few slashes in the meat with a sharp knife.
Pour over the cider mixture.
Roast in the oven, basting during cooking for about 75-85 minutes.
Allow the lamb to rest, covered, for 15 minutes before carving.