Delicious open pies filled with pepper, Parma ham, mozzarella cheese and pesto.
Pepper & Parma Ham Wrap Pies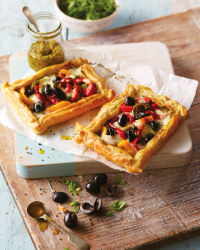 Recipe Information
Ingredients
1 x pack 3 Mixed Peppers
4 x slices Parma Ham
215g Specially Selected Mozzarella Cheese
40g Genovese Pesto
16 x Pitted Black Olives
375g pack Ready Rolled Puff Pastry
1 x Medium Egg Yolk
A little Olive Oil, to grease
Black Pepper
Method
Pre-heat the oven to 180°C/350°F/Gas Mark 4.
Slice the flesh off the peppers, remove any pith and seeds.
Grill or griddle the slices until the skin is blackened and the slices are soft.
Drain the liquid from the mozzarella and slice.
Cut the olives in half.
Unroll the pastry and cut into 4 oblong pieces.
Divide the pesto between the 4 pieces of pastry, spreading it over the centre of each, then top with a slice of ham.
Divide the slices of pepper and cheese between the 4, keeping them all in the middle of the pastry – season with some black pepper, then fold over the sides of the pastry.
Use some of the egg yolk to stick the sides together – so you have an open pie, then use more egg wash on the sides.
Lightly grease a baking sheet.
Put the pies on the baking sheet and cook for 20 minutes.
Great served with rocket and shavings of Parmigiano.