Ideal for an after workout or pre-lunch refresher. This cool fruit drink is great for you to drink on the go or when relaxing on a Sunday afternoon.
Pear, Blueberry & Orange Crush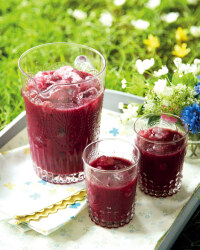 Recipe Information
Ingredients
6 x Conference Pears
125g Blueberries
400ml Del Rivo Orange Juice with Bits
Method
Peel the pears, cut in half and with a teaspoon scoop out the core/seeds, and with a knife cut out the woody stalk, then chop into small pieces.
Put the pears, blueberries and orange juice in a blender or food processor and liquidise.
Serve over ice.
If you prefer a smoother drink, sieve the drink to remove the bits of blueberry skin.